Sabin vom Kolenda
Hi John and Susan,
I just wanted to give you an update on Sabin to let you know how he is doing and to send you some recent pictures of him.
I just got married a couple months ago so Sabin moved with me to our new home in Sumpter, MI.  My husband and I have an old farmhouse that we are fixing up with 3 acres and are surrounded by about 30 acres of fields and woods.  We also have another dog, Sabin's new brother, Demon.  He is an American Pit Bull Terrier and they both get along so great together!  They have so much fun running and chasing eachother all over the property!  Its such a beautiful thing to see Sabin run full blast!  His ears are pulled back and hes in his full stride…its really amazing!!  You can just see the smile on his face after hes been running around for hours.  We also have a new barn cat and will be getting one or two more this weekend.  Sabin also gets along very well with the kitten.  I totally trust him around any other animal he comes in contact with…he has such a great personality that I know he would never hurt anything else.
So here are a few pictures that I have taken this spring, summer and fall.  I also included some pictures of Sabin and Demon and our kitten, Coaldust.  I hope you enjoy them!!  Sabin poses so well for me!
Melina Anderson (Calvas)






---
Hi Susan, Just wanted to let you know how much we love our little boy.  I've attached a picture of Gunnar at a little over 4 months old (Irsus/Kalli litter).  He's a beauty, no??  He's such a good boy and so smart!  He's starting to grow into those paws! Thank you for such a wonderful dog!  He's the hit of the pet store when we take him.  We'll keep you posted as he grows.
Carrie and Jerry Morley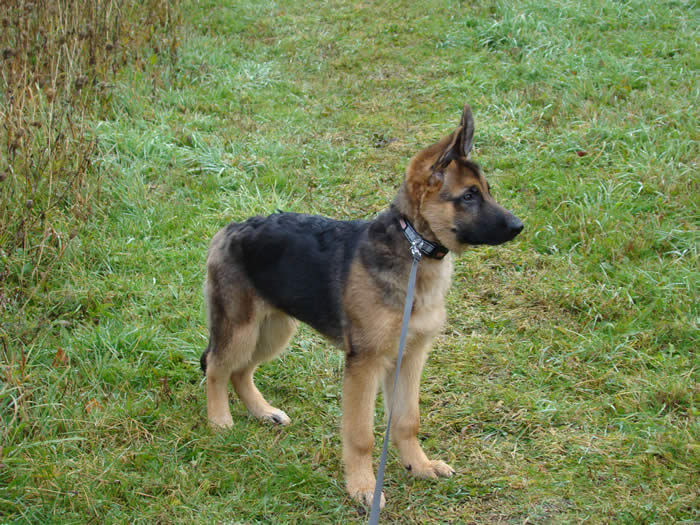 ---
Quipp vom Kolenda
~ B. Green~ Michigan
---
Kuma vom Kolenda


Hi John & Susan,
As promised, I am forwarding some pictures of our beautiful Kuma. He is about 16 months old in these pictures. He is the "greatest" dog we have ever had. He is smart, affectionate and gorgeous. I told you he would probably be our last German Shepherd because of our age, and we asked you for a very special dog. He has lived up to all of our expectations. Thank you again and we have many inquiries about where we got our beautiful dog. We send them right to your website!
Thank you so much for him!
~Richard & Linda Peterson~ California
---
Hello–   Thought you might want to see how Zoey has grown.   Frank and Stathia
---
Nikka vom Kolenda
John & Susan, I know you have heard this many times but thank you for such a great dog!! Nikka has been great. Sunday we had 20+ people over the house and many people commented on her great disposition and how gentle she is. They were very surprised and more so that Nikika is still a puppy and behaves so well. There were young children running around acting crazy right next to Nikka and Nikka never reacted. She simply observed. Never jumping on the kids or licking them or becoming angry at all. It was geat to see. Most puppies or even adults dogs would have become crazy with the kids.
~Fred Cahill~
---
Susan, Our boy at 5 months…60 pounds.  We think he could be show quuality.  finally hooked up with Nick….hope to get the two dogs together sometime soon.~ Walt E. Arizona~
---
VP6 Blitz vom Kolenda II
2007 North American Sieger Show.



Thank you Kolenda Kennels for such a beautiful and well temperd male german shepherd.
He is better in every way then we ever expected. We are so excited that he finished 6th at the
North American Sieger show!
~ Frank & Suzy ~ Pomomac MD
---
VP9 Arko vom Kolenda
2007 North American Sieger show.


Arko is the best thing that ever could have happend to us. Thank you Kolenda Kennels.
~ Don & Ann Kuhn ~ Bloomfield Hills MI