Kolenda Kennels Reviews
Check out these customer testimonials. If you are looking for a purebred German Shepherd look no further! Kolenda Kennels offers German Shepherd puppies that are AKC registered with a written guarantee throughout the United States. If you are not local to Michigan, we offer to ship nationwide and provide delivery services!
Contact Us Today with Any Questions!
Nevaro
Just wanted to send a few photos of our wonderful boy so you could see how he's doing and what he looks like!! Isn't he awesome?!!! He has the greatest personality! Can't tell you how much we love and enjoy him every day! He goes once a week to the groomers and loves all the attention. We've received sooooo many compliments on how beautiful he is and one lady even stopped her car and ask what breeder he came from. She said that just by looking at him, she knew he had to have come from a breeder….and that there was NO WAY it was from one around here! What a compliment to you both!
We are so thankful to you for bringing us together, for always being there to answer our questions, and for all the love and care you put into raising your dogs. Nevaro has not only stolen our hearts but continuously is seen as a remarkable German Shepherd in the eyes of others as well! Hats off to you both!!!
Our Sincerest Gratitude,
–Gabe & Sherran-Marie Palazzi nswdrt@comcast.net



---
Cyrus
Hi Susan & John,
I just wanted to send you a new picture of Cyrus. I know all your puppies turn into beautiful but we are quite partial to this boy. Isn't he handsome?! Everyone says he has a beautiful head! And they are right of course.
Martha Pine-Morash
---
Piper
She is such a sweet girl and loved so much!
~The Chrzanowski, Michigan~ p.s. That is her new best buddy, Charlie sitting with her.
---
As you know, Kandel is in his 3rd year as an Einsel. Obviously, I cannot think of life without him. He is my constant companion, my clown, my champion whilst in the woods, kindly vigilant when strangers are about and I am sure a final deterrent to anyone who seeks to do wrong. He is affectionately known around town, actually around the world, as "The Wolf". His nose is at the end of my nose when I go to sleep and when I wake. Ever attentive to my wife and I, loving to the family and friends, indeed he is a rare find. Truly the best thing I ever did for myself, was buying Kandel.
– The Einsels Hastings, NE



---
Cyro
Cyro has been an absolutely wonderful dog for our family. Truly amazing temperament, serious and disciplined yet so full of love. You can see by the picture I provided that he has become the best friend to our 18 month old daughter. People in our neighborhood are amazed at his interaction and social skill with other dogs. All of this, and he continues to be a very effective watchdog, yet plays soccer with the neighborhood kids every day in the summer ( he is the best player!).
–Brian Freydl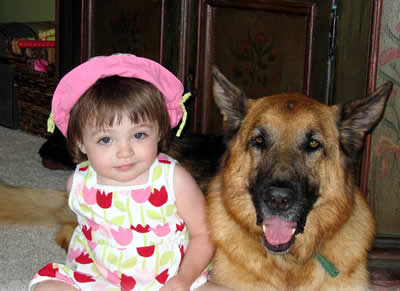 ---
Tippy
Tippy is the absolute ideal dog for us! We are proud that Tippy is very interested in his obedience training. We just enrolled him in the latest class, with the instructor specializing in GSDs. You were so right, that your dogs need to be challenged with training. We will be sending you several pictures we've taken over the past few months, including images of his awards, etc…
He was awarded, the 'nicest dog in the class', because he is so friendly; thanks to your great care in his upbringing as a pup. We wish you all the best for your new litters.
–Judi & Dave Dooley Michigan
---
Ozzy vom Kolenda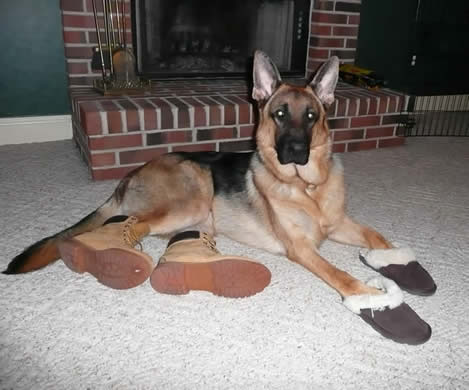 Hello,
I am Alex and I am the older sister (human) of Ozzy my puppy, I am 8 years old and I live in Pennsylvania. I dressed Ozzy and took the picture of him. My Mom thought that it would be a good idea because he was wearing timberlands and you live in Michigan and it's pretty cold there. ( my parents told me) the slipper idea just popped into my head and I just put them on. Ozzy is getting very big now and we love him and take
care of him. Ozzy is ten and a half months old.
From ~Alex Margolin & family~
Dakota vom Kolenda
Alex's second dog from the Kolenda's.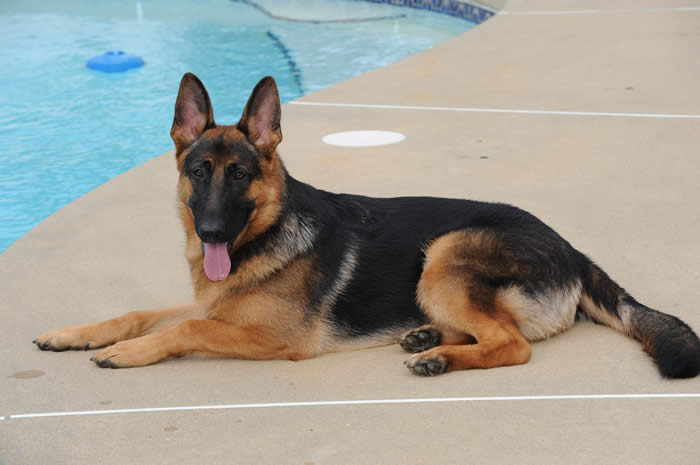 ---
Marcellus (Marcie) vom Kolenda
Dear John & Susan,,
We have named the puppy marcellus, Marcie for short. The Marcellus Shale Gas Co. has a great significance in our lives and in fact made it possible for us to acquire such a great pet. She is just beautiful and so well behaved.
That is Max ( Maxwell Smart) in the picture, he is 14 and has been the best dog. Though he finds Marcie annoying at times and prefers she not chew on or step on his feet, he watches over her. I did not realize she was loose at one point and he had her corralled near the porch out of harm's way!  Max was not sure about sharing his bed and snapped a warning, she just sat down and looked at him, then went right back again and again until he gave in. Thank you for everything.
~Jackie Root, Pennsylvania~
---
Cadie
Hi Susan and John,
I hope all is well with you and the dogs.  So glad June is finally here.  Here are a couple of new pictures of our little pride and joy!  Cadie is great!  We absolutely adore her, and she loves her life here in Mass.  She graduated from Puppy Kindergarten and starts the next phase of obedience in a couple of weeks.  She's got the true makings of a Shutzhund: rambunctious, brave, stubborn, independent, focused, fearless, energetic, loyal, agile….I could go on!  My veterinarian is going to work with me to get her hips certified when the time comes.  There is a local Shutzhund Club that I will be getting involved in, and my training center offers an Intro to Shutzhund program that I can't wait to start.
Everyday, I thank God that I found you guys, because Cadie is the BEST dog that I could have ever hoped for!  She's absolutely gorgeous!  At just 4 months old, she is 40 lbs of heart, muscle, teeth, and brains.  She loves everybody and gets along with dogs of every size!  I took her to the Memorial Day Parade, and she was the star of the cay.  Didn't even flinch at the 21 gun salute!  She still barks at Alex's trumpet though, and it was a little embarrassing when he played TAPS at the ceremony. :S
She loves our place in NH!  We go up nearly every weekend, and of course it's all about Cadie!
~Sandie Doe ~MA
---
Abbey


I have attached a few pictures of Abbey for you to take a look at.  The wet one in the truck is around 5 months and the field is between 5 – 6.  I will keep you posted as to her progress/development!
Thanks again,
Erik Shilakes
---
Schafer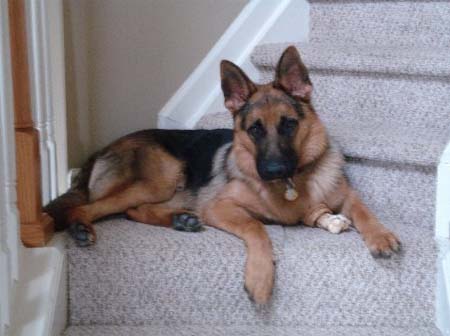 I just wanted to touch base with you folks and give you a status update.  You sent Schafer to us back in November just after Thanksgiving.  He is doing fantastic!  We absolutely love him to death….and he has been absolutely perfect (at least for a 7 month old puppy)!  We get compliments about how beautiful he is, everywhere we go.  Thanks again, and let me know if I can give you any referrals.  Take care.
Regards,
Chad Eads
---
Sigurd
Hi Susan,
The puppy in wonderful, we received a lot of compliments in Holland today. One woman said he is perfect and the best looking German Shepherd she has seen. He gets really excited and plays for 10 or so minutes, then falls right back to sleep. He is adjusting well, and so are we! He is extremely well behaved, and is such a joy so far!
Here is a picture of Sigurd sleeping on the way home. He fell asleep in a funny position.
Thanks so much, Bryanna and Andrew