Kolenda Kennels Reviews
Check out these customer testimonials. If you are looking for a purebred German Shepherd look no further! Kolenda Kennels offers German Shepherd puppies that are AKC registered with a written guarantee throughout the United States. If you are not local to Michigan, we offer to ship nationwide and provide delivery services!
Contact Us Today with Any Questions!
Jake
H. Merrymans ~ Holland MI
---
V Otto vom Kolenda SchH3 Kkl 1a
Owner – P Evans – MO






VP2 Jody and SG1 Otto vom Kolenda at the Mid Central Regional Show 2010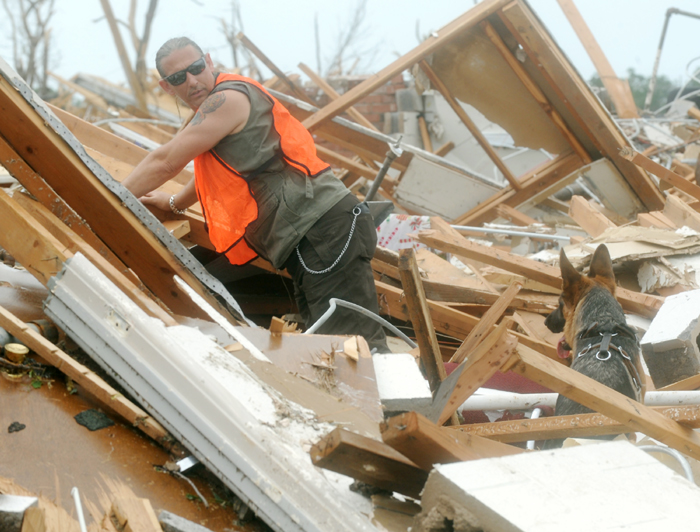 Jody vom Kolenda and her owner Parrish Evans searching through the rubble in Joplin MO tornado 2011. Jody and Parrish are responsible for the successful recovery of human bodies.
Otto 2012
V Otto vom Kolenda SchH3 Kkl 1a 2012
---
Madison vom Kolenda
---
Hey there Susan, I just wanted to let you know that we are enjoying the beautiful dogs so much! Stazi has really grown into a sweet beautiful addition to our family. Stazi and our pug (smush) are best friends, they keep each other in shape and it makes for some great entertainment. 🙂 Kodiak (Doug's dog in Oregon) has become a great  companion to him, at his side at all times and has the freedom to roam their large beautiful, fully fenced property. Wishing you and your Family well, and a Happy Thanksgiving from us here in Kodiak Alaska. 🙂 Take care. Gesa Gustafson (all the photos are of Stazi)


---
Enzo
---
Diva vom Kolenda


Here is a recent picture of our Diva. Now at 5 months, she is a thriving, confiedent member of our family.
She is pictured here at her favorite romping ground where she gets to explore and race along the creek bed or just bask in the sun to pose should the puppy paparazzi come by! She is a wonderful companion, we love her very much.
~Laura McIntosh Bloomington, IN~
---
Uki
Here are some pictures of my son's pup, Uki (you-key). A "U" name is hard to come up with so John made up his own. She has been a joy to him and is growing like a weed. Thanks for everything!
–
Carolyn Daybell
California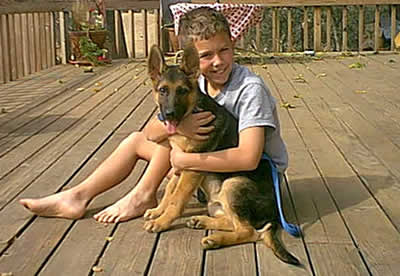 ---
Ezekiel Blue
Dear John and Susan:
Our family has had Ezekiel Blue for just over a year now, and I'm writing to tell you how much unfettered joy has come into our home since this energetic, powerful, sweet and loving dog came bulldozing into our hearts! Not only does our daughter Bonnie have a wonderfully intelligent dog to train and show, but she also has a protector and best friend! Zekie Blue is adorable and loving in every way; he is also highly entertaining and so willing to learn! From frisbee and stick chasing to quiet walks and a warm lapdog as we relax in front of the fireplace, Zeke has certainly exceeded our expectations in every way.
Your hard work in developing a line of dogs that exhibits positive traits is second only to your care and thoughtfulness in matching the right dog with our family! You took the time to meet with us and allow us to get to know your pups before helping us make our very important decision!
We will never own another dog that doesn't get his start at your kennel! You've shown yourselves to be knowledgeable, caring and dedicated to the German Shepherd breed.
With gratitude and thanks,
–
The Lamottes
Holland, Michigan
tinytim141@ameritech.net



---
Mars
Here are several photos of our doggy (Mars). As you can tell, he has grown so much over the past several months. He is a real cutey. We love him to death. We started training mars and his teacher says "He's the best." So Keep in touch, we would like to hear what you think of the photos.
-Micheal, Ausra & Mars Mollerud Englewood, CO



---
Max vom Kolenda



Max has been the best addition to our family. He is one of the smartest puppies I've ever had! Max will be working with me at Great Lakes K-9 and will be trained in obedience, soft mouth retrieval, search & rescue and all aspects of police training .
Jim & Kathy March  – Griffith, IN
---
Karlee vom Kolenda


John & Susan we bought a long-haired female from you in 2005. Her name is Karlee. We are so in love and never would have thought that little fluff-ball would bring us so much happiness! She's a wonderful dog and a great companion. We are looking to once again add to the family; and of course there is no other way to go except with Kolenda Kennels. People comment all the time on how beautiful she is, that of course is due to your great breeding capabilities! Thank you so much! You have added many years of happiness to our family and will continue to do so.
Sincerely,
~Justin & Jessica Bozek~
---
Gilly vom Kolenda



Gilly at 6 mnths
As you can see, she has made herself at home! We use lots of bitter apple spray. She is a puppy bitter for real! She has Rooney's big broad head. The top of her head is only black on the surface. It is read underneath. Her color will be changing very quickly in the near future. Those ears are still up. And here feet are still big! As you can see, she is beginning to get her collar. Such a pretty girl.
~ The Wingate's Ohio ~