Kolenda Kennels Reviews
Check out these customer testimonials. If you are looking for a purebred German Shepherd look no further! Kolenda Kennels offers German Shepherd puppies that are AKC registered with a written guarantee throughout the United States. If you are not local to Michigan, we offer to ship nationwide and provide delivery services!
Contact Us Today with Any Questions!
Rio vom Kolenda 2011


How are you guys doing? Its been a fast year. Just to refresh your memory we had first pick male on rooney and lucy's litter. They were born last july 2010 and I drove out from massachussetts to get Rio last september. Rio has turned out beautifully and a very welcome and loving addition to our home. Here are a few pictures of Rio taken just a couple weeks ago. Take care, Dan and Jan
---
Rex vom Kolenda
Hi Susan,
 Sorry it took so long to get to you and thank you for introducing me to a wonderful dog.
Since I got Rex from you in October – he has been nothing short of joy. His disposition and how smart and intelligent he is – is a compliment and testimonial to you and John.
Here are some pictures I would like to share with you.
Thank you again for bringing Rex into my life.
Sincerely, John Grando
---
Jody vom Kolenda
Jody vom Kolenda and her owner Parrish Evans searching through the rubble in Joplin MO tornado 2011. Jody and Parrish are responsible for the successful recovery of human bodies.
---
2011 Jett vom Kolenda
Hi Susan, Hope you had a nice holiday season. We survived the 22 inches of snow Chicago got a couple of weeks ago, can't wait for spring. Just thought I would send this link to you it's a really cute picture of Jett. He is gorgeous and so sweet. Thanks again for a great puppy.
~Staci DiVincenzo~ Chicago
---
2011 Emma vom Kolenda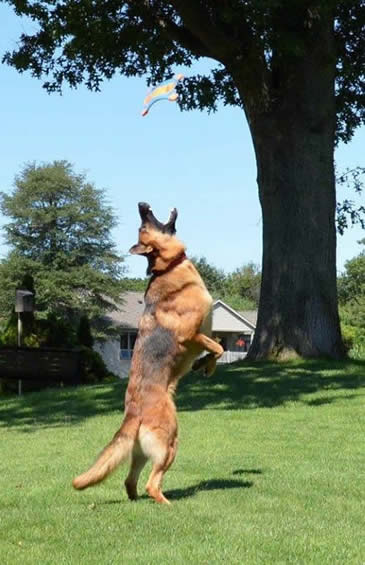 Hi Susan, Thought you'd like the next set of pictures I'm sending you of Emma. She's now a bit over 2 years old and what a dog!!! She is lean, strong and super smart. I'm going to send a few more that my daughter captured the other day. Feel free to use them on your web site if you wish! I love my Emma!!!
Drew
W. Drew Schramm
---
Cooper vom Kolenda
Jime and I thought that we would share with you a recient picture of Cooper. He was born in 2006 and as you can see, is a very handsome boy. He has a great personility and temperament.
~Jim, Tammy and Cooper.~
---
John & Susan,
Debbie and I picked up or puppy, Ruger on January 1 2009.  I just wanted to drop you a line and bring you up to date on his life.  First he is spoiled.  He has a great disposition and personality.  He loves to play and even chases butterflies.  Last week though we were at out cabin in northwest Wyoming when a 185 pound mountain lion paid us a visit.  When I walked outside of the cabin, Ruger charged the lion and chased him off.  He stopped and returned to me as soon as I called.  I know he was protecting me and our other German Shepard.  He has always been a family member to us, and now it is obvious that we are his family also.  Thanks, Larry.
E.L. Whitmer, Jr. IL
---
2006 USA Sieger Show VP6 Jeck vom Kolenda
Jeck has a wonderful temperment, great structure and movement. He also has the ability to learn very quickly. I have enjoyed working and training with such a beautiful dog.
~ Lathan James~ New York
---
2002 North American Sieger Show VP 9 Kai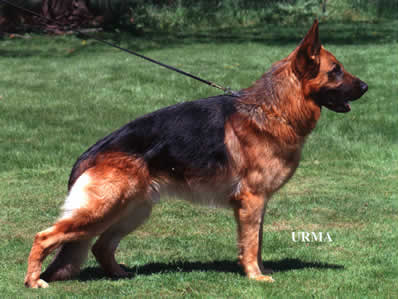 Kai is a wonderful addition to our family. He is a great protector of our girls,and he has the best temperment of any dog that we have ever owned. No matter where we go we get nothing but compliments.
~ Rick~ Grand Rapids, MI ~
---
Nick vom Kolenda
I was a spectator at the 2006 USA Sieger show when I met John & Susan Kolenda. They were competing in the three day event with their dog Ludo. I learned a lot about German Shepherds. There were dogs from all over the world competing, when Kolenda's Ludo made VA against this tough competition. I decided right then to buy a puppy from them, which turned out to be the best choice I could have made.
~ Mike Brown ~ NY
---
2004 North American Sieger Show SG 6 Kookie vom Kolenda
Thank you for our beautiful Shepherd that we love so much. ~Steve & Deb~ Allegan MI
---
Eike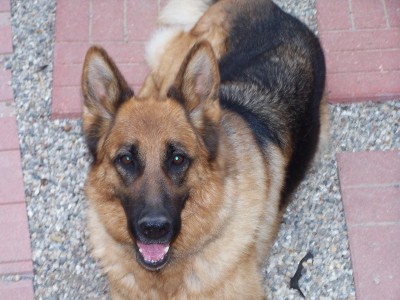 Eike is such a beautiful dog, she is everything we ever wanted in a German Shepherd, she is smart, Loyal and full of love and beans! She is the best friend to me and my family. Thank you so much.
~Dan & Dawn Allegan MI ~
---
Bocephus vom Kolenda


Bo is such a beautiful boy, we love taking him everywhere with us. He is so smart and well behaved. We take him to the High School football games, where he has made a lot of friends and has become very popular. I can't say enough about him except he is just so wonderful.
Thank you. ~Naomi Sparta MI~
---
2006 North American Sieger Show Zeus vom Kolenda


John & Susan

Thank you for convincing me to attend and to compete in the North American Seiger Show in St. Loius. I am very glad I decided to show Zeus. Seeing all those Shepherds compete at the show has given me an even greater appreciation for German Shepherds and how truly special they are. I was impressed in how serious the owners, judges, trainers, and the dogs themselves take competing. As I was returning home from the show, I realized how lucky I am to have Zeus as my friend, companion, and member of my family. Zeus is growing into a great looking, obedient, and smart dog. I constantly get compliments on what a great looking dog he is. He has become very well known and liked in my neighborhood. I have had several dog trainers I have met ask me if they could be Zeus' trainer. Zeus has a trainer and she has taken such a liking to him that she has become a good friend to me and Zeus. I am lucky that she has taken a personal interest in helping me train Zeus. As you know, Zeus is the very first dog I've owned. I truly could not have asked for a better friend and companion. Regards,

~ Scott Majeski-Illinois~
---
Hugo vom Kolenda
Hi John & Susan, I purchased Hugo from you in 2007 and wanted to tell you what a beautiful dog with a great temperament he is! He goes for a walk every day, and we go to the dog park at least once a twice a week so that he can run around with other dogs. He also goes to day care once a week where he gets a lot of play time. Thank you for such a wonderful dog.
~ Hamid Keshtakar- Michigan~
---
Sophie vom Kolenda
~ Scott Johnson- Michigan~
---
Carusso vom Kolenda



Carusso has brought so much joy & Laughter to our home. Jor carrying a tough guy reputation in all of his puppy classes, he is truely a Big Baby with me. I love him so mcuh. Thank you for producing such beautiful & wonderful dogs.He is Top Quality! ~Shelly~
Carusso vom Kolenda & Livia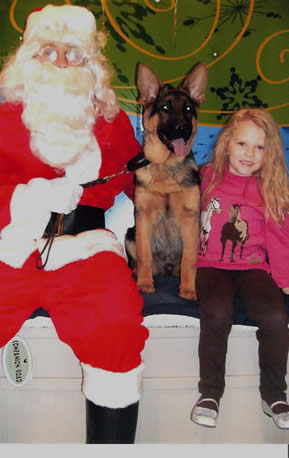 Hi John and Susan,
This is our beautiful boy Carusso with Santa and our daughter Livia. Thought you might enjoy seeing how beautiful he is. We absolutely love him, he is soooo good.
~Shelly Worden~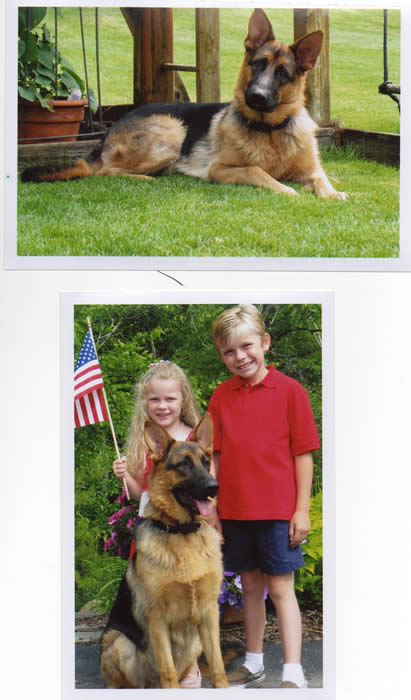 Carusso is 11 months now and doing great and getting more beautiful every day! We love him. ~ Shelly~
---
Rage vom Kolenda


Hi John & Susan,

Just wanted to Thank you for Rage, I love her so much that I am thinking about getting another puppy so Rage has a companion.

~ Kasey Ballard, Missoula MT~

2011

Hi Susan 🙂

I just wanted to let you know that we are quickly approaching Rage's  3rd birthday. She is the daughter of V Cay and Frizi and is still the  most wonderful German Shepherd in the world. She loves running around  the 10 acres of land we own in Plains, MT, and looks forward to the  many car rides/hikes that we take her on in the mountains around here. She gets A LOT of compliments from passersby, and I am constantly  plugging your kennel 🙂 People are always so amazed by her sweet  temperament and beautiful features. I could not be a more proud owner.



---
Kaine vom Kolenda
Hello Kolenda's, Just wanted to drop you a quick hello and see how things are going. Kaine is doing terrific!! I have been learning so much and reading things o the internet about shepherds. We have been in school for the last 5 weeks in puppy kindergarten and then we start the real school on May 23.  I even have him signed up at a doggy beach at the lake so he can socialize.  Take care and Thank you again for such an awesome dog!!
~ Adrian Chicago IL~