Kolenda Kennels Reviews
Check out these customer testimonials. If you are looking for a purebred German Shepherd look no further! Kolenda Kennels offers German Shepherd puppies that are AKC registered with a written guarantee throughout the United States. If you are not local to Michigan, we offer to ship nationwide and provide delivery services!
Contact Us Today with Any Questions!
Jager vom Kolenda
Jager ( Cay/Elli) is 10 months now, and just finished basic obedience and will start intermediate classes soon. He has great drive, and we introduced him to the sleeve which he loves! Best Regards, D. Sordo
---
Beau and Bella vom Kolenda
The Perlick kids Cleveland OH
---
Baron vom Kolenda ll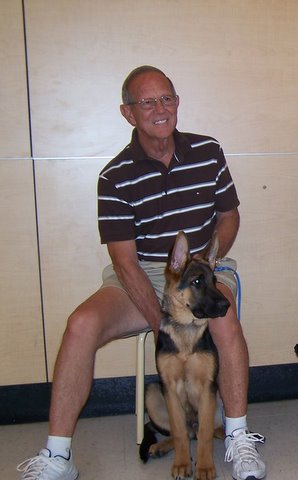 Susan, Here's Baron…as beautiful as we hoped he would be. ~Walt  AZ~
---
Fussen
Thank you so much for such a beautiful and intelligent German Shepherd! We can't imagine our life without Fussen! He is everything we wanted and more!
–Mike & Lisa Harju Michigan
VP-3 Fussen vom Kolenda 2005 North American Sieger Show 4-6 month class.
VP-3 2006 USA Sieger Show 9-12 month Class.


---
2005 North American Sieger Show
At the 2005 North American Sieger Show Fussen vom Kolenda & Falstaff vom Kolenda finished 3rd & 5th in the 4 to 6 month class. Fussen & Falstaff are litter mates. The German Judge said this was one of the few times he has ever seen litter mates finish in the top 5 at such a large sieger show!  ~ He also said this was quite a breeding accomplishment!! ~
---
Elsa, Eva & Falstaff.
Emily and I wanted to thank you again for the beautiful dog that you sold to us. Elsa is a wonderful pup, and the envy of most of the other dog owners we meet, especially GSD owners. We recommend you highly to everyone we talk to, and drop your name whenever we can. We wish that everyone would breed their GSDs to such a high standard. We met a 9 month old GSD last night, that already has bone problems and is poorly angulated. His owner went on and on about how much he was costing her because of all the vet bills for various problems. It is definitely worth it to pay for a carefully selected set of genes up front, rather than pay for it later with a lesser dog.
–Jon and Emily Seeger Daleville, Indiana
Eva vom Kolenda VP 2005 North American Sieger Show 4-6 months

Falstaff vom Kolenda VP-5 2005 North American Sieger Show 4-6 months
Falstaff & Eva 8 weeks old.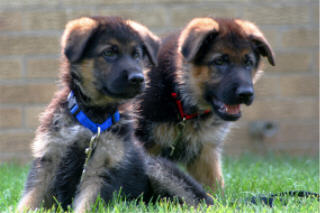 ---
Arkon & Ella
Dear John and Susan:
Arkon and Ella are the most wonderful addition to our family of five! They are smart and beautiful and a joy to be with! Thank you again for providing us with such mighty canines!!!!
5/2006 Hi John and Susan!
Ella just celebrated her first Birthday. Her and Arkon are so beautiful and smart. They are ideal dogs for our family of five. The kids are in the perfect age to really love and care for them. (10, 8 and 6 years old). They respect the dogs and yet Ella and Arkon see them as their "leaders".  Ella is extremely intelligent and alert. I just taught her on our outings in the woods to search and find various items(gloves etc…). She is an excellent tracker! And Arkon is a typical male, always alert and watchful. Thank you again for our German Shepherds.
Sincerely,
–Sigrid and Bobby Morse and kids
VP-8

Arkon vom Kolenda 2005 North American Sieger Show

6-9 months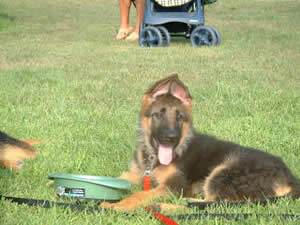 ---
Diesel vom Kolenda



John & Sue, Thank you so much for such an awesome dog! He is wonderful with our 2 girls and has such a winning personality, we couldn't have asked for more.
~The Robinson's – Swan Creek Michigan~