Brian Parker's Girls!
Reily, Celine, & Milla



---
Kaline vom Kolenda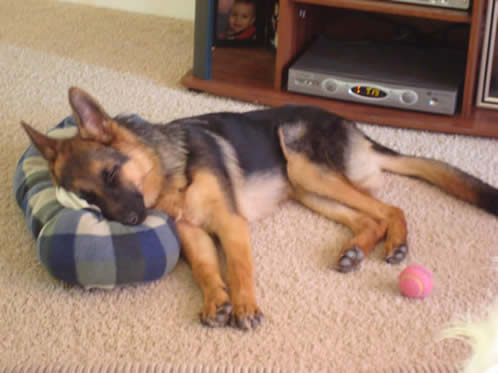 Kaline can't give up his puppy bed so now he uses it as a pillow! We love him! He is the best dog I have ever seen or had. He is becoming one majestic animal. Thank you so much.
Best Wishes, ~Nick Anderson – Kalmazoo MI~
---
Gator
Just thinking of you and your excellent services.
Thank you for Gator … he is doing terrific. I have recommended you to anyone that will listen. Little Gator is just so fun, beautiful, and well tempered. He is really ideal.
I would be glad to serve as a reference, and just wanted to thanks!
---
Dave vom Kolenda
I met Susan and her male German Shepherd Karly, at a Sieger show a couple of years ago. I was so taken with Karly, that I knew I had to have one of his pups. Nine months ago, I got one of Karly's pups and named him Dave.
I have owned German Shepherds and worked with them for the past 25 years and Dave truly is a quality dog. Dave is very smart, spirted, fun and drop dead gorgeous. I highly recommend Kolenda Kennels and plan on doing business with them in the future.
 ~Josie~  Oregon, WI
jadarae@tds.net
Tom & Dave 2012
---
Harley vom Kolenda
Susan and John, we hope all is well. We want you to know how pleased we are to have the new addition to our family. "Harley" is his name and he is a joy already. Today is his one anniversary week with us and we could not be happier. It is very obvious that you guys are great breeders. Our Vet was very please with everything he saw. Also I wanted to thank you for your time and attention to both Stephanie and I with the many questions we had prior to receiving Harley:) Susan your presentation of Harley was great all the way down to the kennel, the food and the literature etc. that have already helped us to make a better home for him. We will highly recommend you and Kolenda Kennels. I have attached a photo of our twin daughters Claire and Carsen at the airport with Harley. The girls are very pleased:) We will stay in touch so you are able to see the growth of Harley ….
Thanks and I am sure we will have a couple more questions in the next few weeks
Thanks,
The McFadden's
Claire , Carsen , Stephanie and Jeff
Dallas Texas
---
Triton vom Kolenda



Here is our handsome Florida Boy that everybody is drooling over!!! He is Mr. Personality!!! He just has to say Hello to evey human and every dog! He is trusting- but within limits ( he will stop, sit and wait for a person to invite him into their personal space) and eye contact will do just fine for Triton. He has the best predisposition, fabulous people and dog skills and everybody asks whether he came straight from Germany! He is just so much like my Best Shepherd ever, Rocky von Uren Valenseph my and K-9 units pride and joy in Chicago. Thank you so much fo being the best in the USA!!! I come from Europe, so I Know!  ~ Ania Hillon and family – Flordia~
Anja and her pal Triton.
Anja visits with Triton every few weeks on the beach, Triton is why we bought Anja! We just loved him
and Anja has turned out just as perfect!
~Carol Kerr Florida~
---
Bravo
Hope things are going well at Kolenda Kennels. Amanda, Bavo and I are doing great and we are enjoying the spring weather. I took Bavo for his first run with rollerblades today. He really seemed to like it. I have to make him run in the grass though because his poor paws get a little road rash and start bleeding if he tries to run on the sidewalk or road. We get complements on Bavo almost everyday when we take him for a walk. We had one lady actually make her husband turn the car around so she could get out and see Bavo. Last week a woman with two children followed me for a block because she wanted to see him. Amanda and I joke around saying that I can't take Bavo for a walk alone because he is such a "chick" magnet.


---
Dakota
Thought that you would want to see how one of your most beautiful girls ever has turned out. Dakota is doing great here in Connecticut and is a treasured addition to our family.
–Charles Nobs
CHN3299620@aol.com


---
Sieger vom Kolenda



~TJ~ Cresco PA
---
Tiki vom Kolenda
She's just too cute!
~ The Uridge's, Plainwell MI~