Hey Guys,
Just wanted to send updated picture of Gretta at 7 months old.  She is great, everything about her!
Thanks again,
Derek and Jordan Dreyer



---
Luke vom Kolenda


~The Liu's New Market MD~
---
Lizzie vom Kolenda
Hello Kolenda Kennels,
Lizzie is now 4 months old and we wanted to drop you a line and tell you what a wonderful family pet she has already become.
She is absolutely gorgeous in appearance and receives compliments everywhere she goes.
More importantly, her temperament is just excellent and she has bonded with our whole family very well.
Leading up to the purchase of this dog, I commonly read various opinions claiming that  this breed could be shomewhat aloof and may only bond with one
member of the family. Nothing could be further from the truth. Lizzie seeks our attention and approval and closeness on a constant basis.
She loves to play in the snow and is already playing "fetch" with a ball pretty well. She is already house trained and just a joy to have around.
I even allow her up on the bed at night to sleep sometimes, which I never thought I would. The "shepherd" instincts are also
apparent in this dog. She watches over the boys constantly and will seek out any member of the family that is not visible to her at any moment.
In short, this dog is everything that we wanted and then some. you are to be congratulated on producing an outstanding example of this breed.
I would push anyone interested in a German Shepherd Dog in your direction.
Sincerely,
~The Delany Family – Williamston, MI~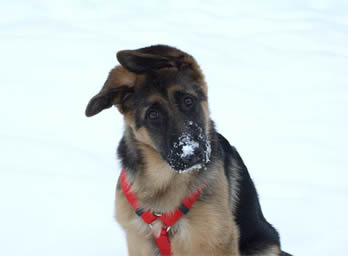 ---


---
Heru vom Kolenda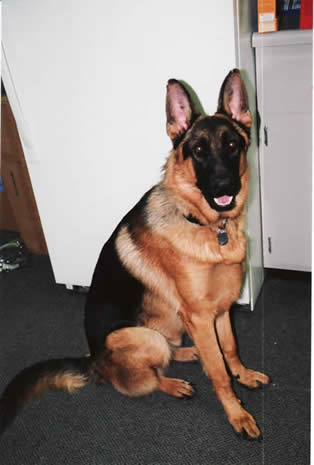 Hi John & Sue,
I got Heru from you around Memorial Day last year. He is such a joy and so even tempered. We are still
going to training. I keep him with me al the time and must say I feel much safer with him by my side. Since I own
my business and come and go at all hours, he is defintely an asset. He is so beautiful. Every time we're out people remark how beautiful he
is and ask where I got him. I refer them to your website. Thanks for your dedication to bringing quality GSD's into peoples families.
Blessings,
~Rev. Deborah Bourbon R.N.~
---
Hoku  Ala vom Kolenda
~ The Merrill Family Bixby OK~
---
Remi
Just wanted to update you on how great Remi is doing now that she's almost 7 months old. I can't say enough how sweet and smart she is. I am still taking her to obedience class every Monday and her trainer, who is a K-9 handler, is very impressed with her disposition and her work drive. She's a very fast learner. I tell everyone how wonderful your dogs are and what obvious dedication to the breed you have to create such amazing german shepherds.
~Becky Curtis~


---
Kaiser vom Kolenda
DOB: 6/2/2004
Esko and Ursula Litter
Here is our beautiful fourteen month old Kaiser, and what a delight he is! Kaiser is a very energetic boy with unbelievable stamina. He excelled in puppy class and our Vet has commented on his sound structure. He is protective of us, but our pack went camping to Yellowstone and he made up to the people in our travels, there is a good balance. We have had people stop and ask where we got this gorgeous boy. His intelligence is incredible and he is so tuned into us that he knows what we are going to say before the words are out of our mouths. We would be happy to talk to those seeking a reference.
~Todd and Sherry Perrine
Snow Shoe, PA~


2008


---
Geno Von Esko Diehl Kolenda
DOB: 5/12/2005
Hello Susan and John:
We wanted you to see our Geno – one year later from when we brought him home. He is just lovely. When we go to the dog park people will always stop and ask about him. Those who are familiar with the GSD breed can tell by looking at him that he comes from good roots. He is sweet and loves everyone, especially playing with children. He is also gentle and secure with other dogs.
As you can see he is breath taking to look at, but his temperament, agility, and intelligence are second to none. What an awesome creature. We are very grateful that your kennel takes such great care in producing these incredible dogs.
Again, thank you. Your hard work and dedication has added a joy to our family.
-The Diehl's
Barrington, Illinois
DOB: 5/12/2005
Geno Von Esko Diehl Kolenda7/14/2004
Geno 7/4/2005


Geno 2012
---
Calli
Calli is now just over 8 months old & she's BEAUTIFUL!
–Mindy & Rich Yanulis
Syracuse, NY
myanulis@aol.com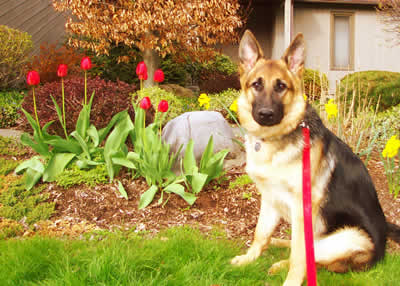 ---
Hi Susan & John,
It's been a little over two weeks with Buddy and all I can say is WOW . He learns so fast it's scary. Temperment is awesome. All the 4th of July fireworks didn't phase him. Other than the puppy zoomies he is extremely calm and even tempered. He loves people & other dogs. He walks on a loose leash and sits when I stop. It's hard to believe he's only 10 weeks old. He's very curious and loves to explore. The alligator teeth are driving us crazy but even that is fun. We'll keep you updated on his progress. Thanks for a great dog.
Monica & Alan Wolf


---
Hi Susan and John,
Just thought I would say hi and tell you how much we love Jackie. She is so playful and has a ton of energy. Everyone in the neighborhood loves her. The kids at school love when she comes for a visit. We also adopted a Germen Shepherd/Mastive mix from a rescue. His former owner use to beat him. Jackie has been wonderful in helping in his rehabilitation. I have attached a few photos. Again I can not tell you the joy Jackie has brought into our lives.
Laura Tyler


---
Hi Susan,
Here is our baby boy (or should I say bear cub given the rate at which he is growing), Rocco. He has already been referred to by people on the street as the King of Hoboken. We are thinking of tying a money pot to him for handouts since people cannot stay away from him and he might as well get paid for the all the extra lovin he has to put up with. 🙂
Best Wishes,
Hamid & Simi