Kolenda Kennels Reviews
Check out these customer testimonials. If you are looking for a purebred German Shepherd look no further! Kolenda Kennels offers German Shepherd puppies that are AKC registered with a written guarantee throughout the United States. If you are not local to Michigan, we offer to ship nationwide and provide delivery services!
Contact Us Today with Any Questions!
Jake vom Kolenda
Dan & Debbie Dierdorf ~ St. Louis MO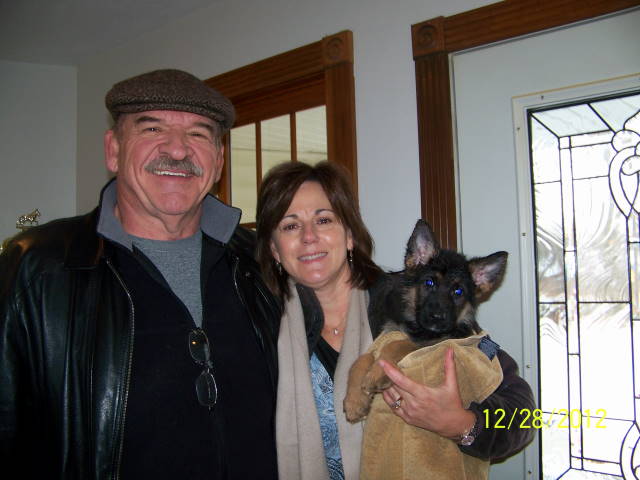 We are so happy with him, it is amazing to see that even at this young age he has all of the classic German Shepherd traits that I love so much. If I stand still for even 60 seconds he is laying on my feet! Love that. Dan left to do a game in Miami this morning armed with several adorable pics to show everyone! He is such a softie!
Hall of Famer Dan Dierdorf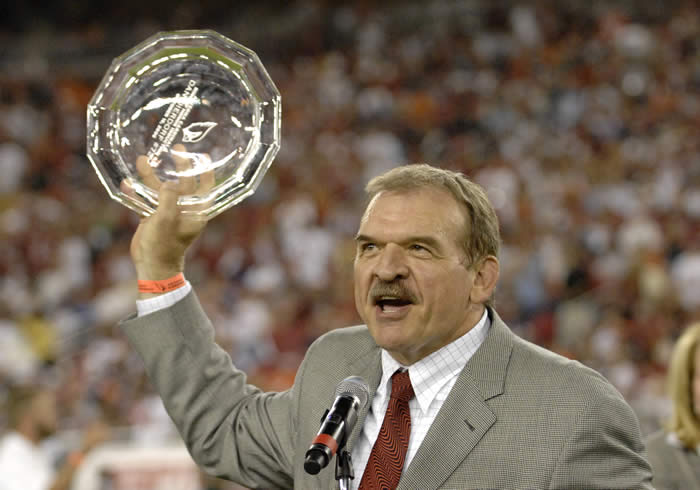 ---
Schatten vom Kolenda


Greetings,
I just wanted to give you a little update on our Kolenda Shepherd Schatten.
Schatten just had her first birthday this week and is doing very well! She has been through one formal Dog/Puppy obedience class and is enrolled in Canine Good Citizen Training starting in September. Living in the tourist town of Frankenmuth, Schatten enjoys several walks through town every week and is a very well behaved model citizen for a German Shepherd in public! We continuously receive compliments on her beauty and color as well as her relaxed behavior. In addition to the class, we are working with Lewie Reynolds from Birch Run. Lewie is a trainer as well as competes with German Shepherds in obedience and had a dog place first nationally several years ago! I have attached a couple of photos and hope all is well with you!
Have a wonderful day!
Dave Slivinski
VP, Sales
Saginaw, MI 48601
2011
---
Gunner vom Kolenda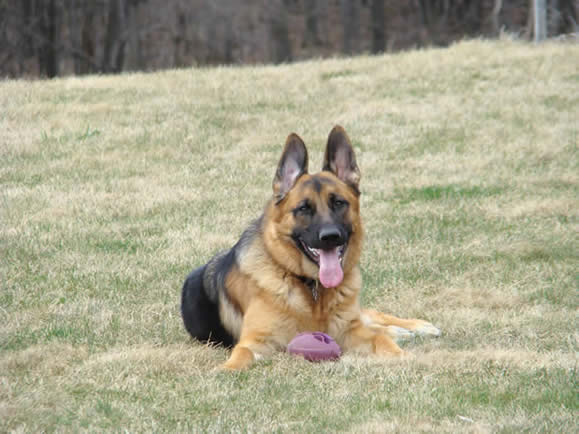 Hi Susan, Just wanted to drop you a note and let you know how wonderfully our boy is doing. He's 9 months old now (Irsus/Kalli litter 7/15/10) – and is a joy in every sense of the word. He's very friendly with people and other dogs – though I'm not sure how he feels about squirrels and rabbits since he loves to chase them. I think if he actually caught one though, he'd just want to play. I've attached a picture I just took yesterday – he loves to play with his football! Thanks for such a fantastic pup! Carrie Morley
---
Zira vom Kolenda
Hi Susan and John
I sent you a puppy picture of Zira (pup of Cay and Deega) sometime ago – I hope you got it – it was a cute shot of her kissing my daughter after having a bath – Sophie was holding her all wrapped up in a towel.
In any case, I thought I would share these grown up pictures that we just had taken so you can see how beautiful she is now.
She is a wonderful girl!
Michele Ross


---
Tucker vom Kolenda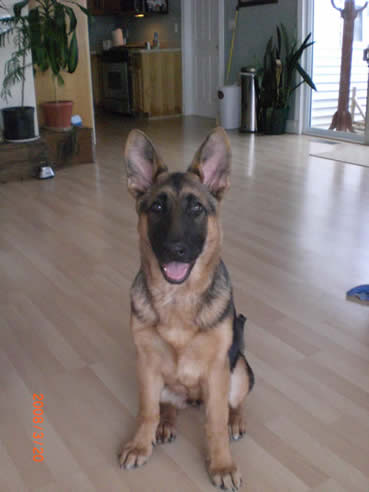 ---
Freud vom Kolenda


Hi Susan & John, It has been a year now since Freud has joined our family and I wanted to take a minute to share a recent photo and to thank you again for such a beautiful German Shepherd. When we are out people are just taken by him. He is stunning. Freud is extremely intelligent with a fantastic temperament. He has also grown to become a wonderful watch dog and my favorite running partner, but most importantly he is great with my children, gentle and always watching. we are just madly in love with him and so glad we ended up with him. Thanks Again.
 ~ Maureen, George and Family,~ Port Jerzis New York~
---
Berkley vom Kolenda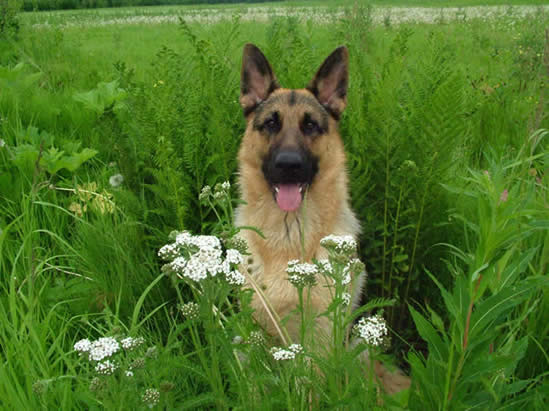 Elaine & Marshall Yelverton ~ Trapper Creek Alaska
---
~ The Merrill's Oaklahoma ~
---
Neeko vom Kolenda


Hi John & Susan Just wanted to let you see how beautiful Neeko has become. He chases and retreives a rubber ball that we hit with a tennis racket every night. He is in great shape! We get so many compliments on his coloring. It's such a vivid red.
He is smart as ever. We took to obedience classes but he is so smart it doesn't take much.
~ The Wikenheiser's CA ~
---
Ruger & Remi
Dear John & Susan,
Here's a picture of my 2 best friends. There great, I couldn't be happier! They gowith me everywhere.
No matter where we walk people tell me they have never seen shepherds like these. Thanks for everything.
~ Bill Topp Holland MI ~
---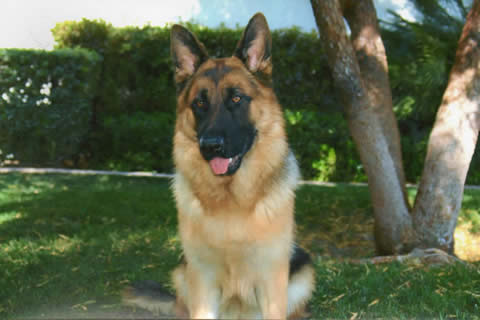 ~ John & Jo Keilly, Las Vegas NV ~
---
Krieger vom Kolenda 2011


Just wanted to send a picture of Krieger at one year. We can't go anywhere without someone commenting on what a beautiful dog he is. He has been a real pleasure to own. He goes everywhere with us. He went to work with me every day until the boss gave him a pink slip for barking at the customers. L Now he spends more time with my husband working from home. He loves to swim, mushroom hunt, play with the neighbor kids and most of all he loves to ride in the car. He is the perfect car rider. He gets in, lays down on the back sit and goes to sleep. Sometimes he doesn't want to get out when we get home! He's smart and a smart aleck. But we love him.
Thanks for the wonderful companion,
Deb & Tony Radjenovich
---
John & Susan, This is Maxwell Vom Yasko Langbogen a ten month old male out of Irsus and Flikka. When he is old enough we will be breeding him. We did two years of research before purchasing him. Anyone looking for the finest German Shepherd Dogs must consider Kolenda Kennels. To achieve Maxwells bloodline we could have easily spent two or even three thousand dollars more than we did. You can't go anywhere without someone commenting on how gorgeous this boy truly is. His temperament is perfect, he has not a mean bone in his body yet he fears nothing. He is built like a tank but moves like deer. I can't wait to see his pups!!! We mostly dealt with Susan and she was friendly and professional . Thank-you both, Bob & Diane Hollerback
---
Here is a picture of Penny, 5 months and 53 pounds. She is growing into a beautiful dog with a lot of personality. We are really enjoying her. She is Rooney and Lulu's daughter.
Pam
---
Tigger vom Kolenda
---
Komet vom Kolenda


Just wanted to drop you a note to let you know that Komet is doing great. She is filled in a bit, about 80lbs. She is as sweet and intelligent as we could have hoped for. The kids love her. Thanks again. ( Zalla & Cay)
~M. Hamaway~
Ft. Lauderdale
---
Krypto vom Kolenda
~J. Ballesteros~ Delray Beach FL
Irsus & Dana